A european leader
Challenge Agriculture is a tensiometry specialist with Irrometer since 30 years and a european leader of this technic.
Agronomy is progressing. We are measuring the needs of water and minerals and controling disponibility with stricts measuring criterias,  to optimize production and minimize inputs.
Two simples principles
an agronomical vocation for the leader
technical projects that systematically ends with gains for the customer or the partner
Our plant
We manufacture and repair in our plant in Ambillou.
Hardware, firmware and software for Monitor are done by ourselves, relatives and close suppliers.
Conception and realization 100 % made in France.
 Our fabrication R2-DX® , R2-DL ..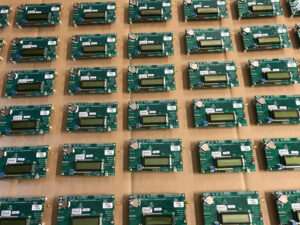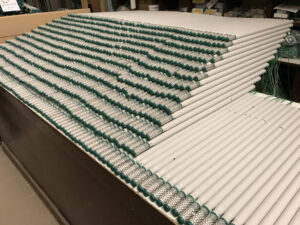 The Watermark® sensor (Irrometer Co) are mounted, cabled under 60 different présentations.
Key dates
The history of the company is landmarked by innovations.
1989 – French leader français in irrigation control with tensiometry
1990 – Starting Watermark in France, Italie, Switzerland. Writing the knowledge book
1993 – Watermark becomes leader in France
2003 – Watermark leader in Europe
2004 – Watermark Monitor : automatic reading of the sensors. Work on the software
2006 – Starting telemtry development
2008 – Automatic transmission of the datas by GPRS
2009-2012 – Watermark service development
2011 – "Echography" of the bulb, drip irrigation, with 2 monitors and 16 sensors
2013 – Developping new hardware generation for sensors reading, data transmitting and valves control.
L'eau du sol maîtrisée, avec l'aide de la télémétrie :
2008 – Transmission automatique GPRS des données.
2009 – 2012 – Développement de la prestation de service Watermark-service
2010 – Résultats très intéressants sur Oignon en rendement et qualité en Beauce
2011 – "Echographie" du bulbe goutte-à-goutte grâce à 2 Monitor + 16 sondes
2012 – Watermark-service pour 8 Chambres d'Agriculture sur 130 parcelles Midi-Pyrénées
2013 – Leader européen en tensiométrie par télémétrie avec un millier de Monitor en ligne
2014 – Fabrication de 3 nouveaux Monitor R2-DL, R2-DX, R2-DX-smart, carte et softs conçus et fabriqués 100 % en France. Travail à l'atelier .
2015 – Travail spécialisé sur l'Asperge avec Christian Befve
2015 – Une trentaine de vidéos agronomiques en ligne
2015 – Automatisation de l'irrigation avec la R2-DX-smart
2015 – 2016 – Nombreuses missions intéressantes en Amérique latine
2016 – Amélioration du système de graphes en ligne
2016 – Développement avec R2-DX de l'Echographie du bulbe goutte-à-goutte en ligne – une première –
2017 – Premier travail sur la salinité en goutte-à-goutte
2018 – Développement du conseil hebdomadaire en ligne