WATERMARK sensor with module 200SS – Voltage Adapter
Watermark sensor, mounted on a double diameter PVC pipe (50,75 or 90 cm long)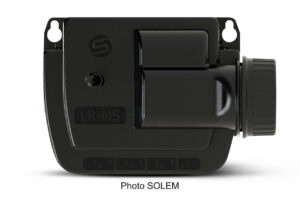 Watermark sensor is equiped with a "Voltage module" 200SS-VA, compensated internally by a soil temperature sensor. Comes with a sheltered cable of appropriate lengh.
3 of those equiped sensors are connectable directly to this module : SOLEM LR-MS.
Plug standard 45 cm cable : black (-) red (+) white (signal).
Plug sheltered cable of 2 m or 6 m : bleu (-) rose (+) violet (signal)
The 200SS-VA Voltage Adapter for Watermark Sensors allows most loggers to read Watermark sensors, compensated by a soil temperature sensor.
Without metrological or methodological garanties from us.
Additional information
| | |
| --- | --- |
| Lenght of tube | Module Only, 50 cm, 75 cm, 90cm |
| Lenght of wire | 45cm, 2m, 6m |