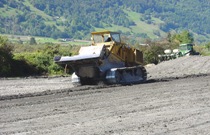 Tensiometry is used in Geotechnical engineering, with the objective of :
Building on the ground
Follow the building sites remotely
Monitor slope stability
Understand the movements under roads
Application
The different applications relate to:
Soil bearing capacity : the pressure acceptable by a soil, without irreversible deformation, is the counterpart of the depression (or tension) existing in this soil
The movement of the basements, swelling/shrinkage of clays is actuated by tension
Slope stability : cohesion is generated by tension. The consequence is important in term of safety of construction sites
Articles
Technical file entitled « Appearent cohesion of non saturated soils » of BBRI (Belgian Building Research Institute).
Traditionnal methods of slope dimensioning of excavations, trenches or sustained excavations, ignore the effect of suction in non-saturated soils (above water table and protected from rainfall) that give an additionnal cohesion and resistance to shearing. This oversight partially explains the better than expexted cohesion of some excavation works, but also the colapse of other, also unexpected.
Tensiometry (WATERMARK sensors) is used here to measure the succion effect, due to the poor sizing of the slopes of some trenches or excavations supported.