Tensiometry is a technique based on measuring water tension in the soil. In other words, the succion that the root needs to apply to extract water from the soil. The drier the soil is the higher its tension is.
The soil, often compared to a reversoir, is behaving more like a wick or a pump, moving water, as long as the pump works inside  its curve possibilities. Tensiometry is a kinf of vaccuum guage plugged on this natural pump.
The avantage of Tensiometry  :
The unit is known : cbar (or kPA)
Universal measure of the difficulty to extract water. Operationnal in almost all situations of soil, culture, irrigation mode, without necessity to calibrate the soil.
Tension on a range 0-239 cb, is an appropriate indicator in irrigated soils.
The tensiometric sensors are easy to install to get a good contact soil / sensor, allowing tension to equilibrate naturally beetween soil and sensor.  Sensors are installed at 2 to 4 dephts, times 3 to 4 repetitions. As a minimum to adress the  heterogeneity in cultivated soils under irrigation.
Monitor, connected to 1 or 2 packs of 8 sensors is automatically registering / transmitting the soil tensions.
A pack (more than 16 different presentations) is classically composed of 1 soil temp sensor + 6 sondes Watermark sensors + 1 air temp. Add-on devices (explicative, not deciding) : 1 rain guage and/or watermeter.
Tensiometry is pertinent, rustical, reliable, accurate, affordable, cost effective.
Tensiometry has progressed more with the Monitor since 2004, than during the previous decennies.
For 2 resasons :
1 ) continuous readings, instead of maunal discontinuous readings.
2) minimum of 3 repetitions to give statistical strenght to decisions
An interesting progress has been brought by telemetry (transmission of data) since 2007.
On-line graphs show in real time how soils are functionning and allow decisions, several days in advance.
This allows adapt the irrigation planning a week in advance,
Monitoring with one step ahead the events changes everything !
Measuring tension :
2 types of tools, measuring tension in the soil :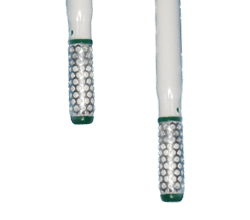 Watermark sensor measures on a range 0 – 239  cbars, no maintenance, frost resistant. See  "Sondes Watermark" for more information.
Tensiometer measures on a range 0 – 80 cbars. Needs maintenance if tension goes > 70- 80 cb.
The Watermark sensor is a rustical tool, accessible, that doesn't need maintenance. Simple to use, accurate, pertinent. "Simple to use" does not mean that taking irrigation monitoring decisions can be done without a strong and square technique. Tensiometry has been used for more than 50 years, and the technique crossed a decisive stage since 2004, with automatic acquisition of measures and a minimum of 3 repetitions thanks to the Monitor (see Boitier d'acquisition for more information).
Agricultural irrigationole

Transplanted trees

Portance and stability of soils
Tensiometry (or measuring the availability of water in the soil) is a universal technique that allows monitor all kind of irrigation systems, on all crops, in almost all kind of soils, under all kinds of climates.
Tensiometry allows the irrigation manager to observe and handle his own irrigation season with classically 12 to 20 decisions, adapting to the context soil, crop, climate.
Exemples, testimonials, results (voir sommaire) :
En arboriculture, un pilotage professionnel avec Monitor coûte 20 à 30 kg de fruits / ha / an avec l'espoir de gain d'un calibre soit 2 à 3 T/ha/an. (voir tableau coûts) et des économies de 20 à 50 % en goutte-à-goutte, par exemple.
Sur melon : gain de rendement et économie d'eau.
Sur semence potagère : meilleur résultat et économies.
Sur céréales : le coût est de 1 quintal / ha / an avec un espoir de gain du double, avec optimisation du m3 utilisé.
Sur Maïs, l'économie en condition non limitante est de 1,5 tour d'eau moyen.
Sur une centaine d'autres cultures irriguées, que nous avons suivies, même constat.
---
Reprise d'arbres transplantés & pilotage d'arrosage urbain.
Monitor Watermark (en version souterraine) permettent de suivre la sortie des racines de la motte transplantée et de piloter l'arrosage urbain.
---
Géotechnie :
Portance des sols : la pression acceptable par un sol, sans déformation irréversible, est la contrepartie de la dépression (ou tension) dans ce même sol.
Travail des soubassements : le gonflement – retrait des argiles est actionné par la tension.
Stabilité des talus : la cohésion est générée par la tension. Conséquence importante pour la sécurité des chantiers.
---
Extrait du livre : La tensiométrie pour piloter les irrigations :
une gestion raisonnée de la ressource en eau.
Gérard Tron (SCP), Carole Isbérie (Cemagref), Pierre Chol (SCP)
Faisant suite à de nombreuses campagnes d'expérimentation, cet ouvrage montre que le suivi de l'évolution de la tension de l'eau dans le sol offre une approche globale et opérationnelle du système sol-plante-eau. Ces informations sur la qualité de l'irrigation, et sur les améliorations éventuelles à effectuer permettent des économies d'eau , en évitant les apports d'eau excessifs, tout en améliorant souvent quantité et qualité de la production.
Extrait "la liaison de l'eau avec le sol (tension, succion, potentiel matriciel), dont la connaissance permet, en temps réel et même sans grande expérience du sol et/ou de la culture, de conduire l'irrigation en :
maintenant de l'eau toujours disponible pour la culture
évitant les engorgements
évitant les percolations vers la profondeur
permettant de bénéficier des remontées capillaires"
---
Publications & internet ..
Ce site internet a pour objectif de témoigner du potentiel de la tensiométrie, sélectionner et donner de l'information précise.
30 ans d'expérience nous permettent d'estimer que 3 quarts de l'information circulant sur Internet à ce sujet est dépassée ou imprécise, contre 1 quart à jour et de bonne qualité.