Telemetry / wired and wireless / Valve control
R2-DX® monitors irrigation on most situations (soil / plant / climate / equipment)
Handles Watermark® sensors and other resistive sensors.
Measurements and monitoring are performed, recorded, transmitted, processed, and dispatched automatically.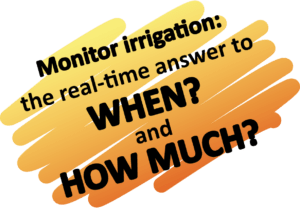 R2-DL
R2-DX®
R2-DX® Smart
Conception and realization by Challenge Agriculture
Data logger
Telemetry
Telemetry +
smart irrigation
Price (excl. taxes)
390 €
850 €
1200 €
Sensor measurements (Watermark®, temperature…)
(max 32 inputs)
(max 32 inputs)
(max 32 inputs)
Rain gauge & watermeter
(max 2)
(max 2)
(max 2)
Low power operation
●
●
●
LCD display (measurements + statistics + status)
●
●
●
Automatic recording on microSD
●
●
●
Arduino® code  
●
●
●
USB interface (configuration / measurement reading)
●
●
●
UART interface (interface to other equipments)
●
Energy / Voltage
AA batteries / 9 V
Battery / 12 V
Battery / 12 V
Battery autonomy (after 24h charge)
12 months
12-16 months
12 months
Extended autonomy (with solar panel)
—
72 months
72 months
GSM
●
●
Programable by sms
●
●
Dedicated Web site (history, graphics, setup…)
manual upload of file
●
●
Irrigation timer
●
24V AC switches (valves / water pump / …)
4 outputs
Latched solenoid valve controls
8 outputs
Automatic irrigation control
●
Irrigation report
●
Irrigation weekly schedule
●
● : included   –   ○ : optional
Soil tensiometry data logger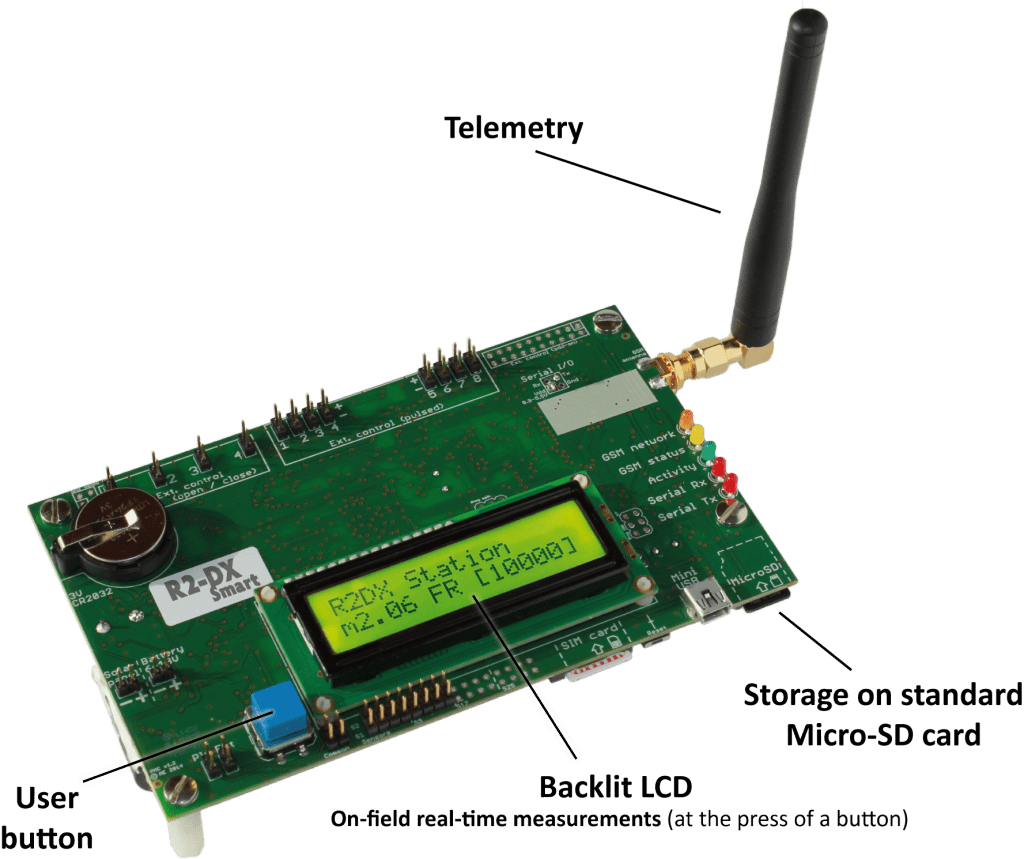 Telemetry – transmitter/receiver
Regular report (adjustable frequency: several times per day, daily…)
Dedicated Web service with graphing capability, or SMS on any cell phone, option for automatic e-mail.
Alert if a median threshold is reached.
All parameter adjustable by SMS request
Diagnostic features for installer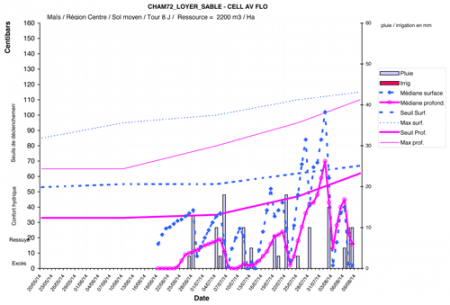 High sensitivity system: offers best performance in agriculture – typically inside canopy 40cm above ground, sometimes in poor signal areas, or even underground in city landscaping.
Cheapest pre-paid SIM card can be used (sold in supermarket or by internet). Extremely convenient for "dealers", "advisor" or "users".
A proven measurement method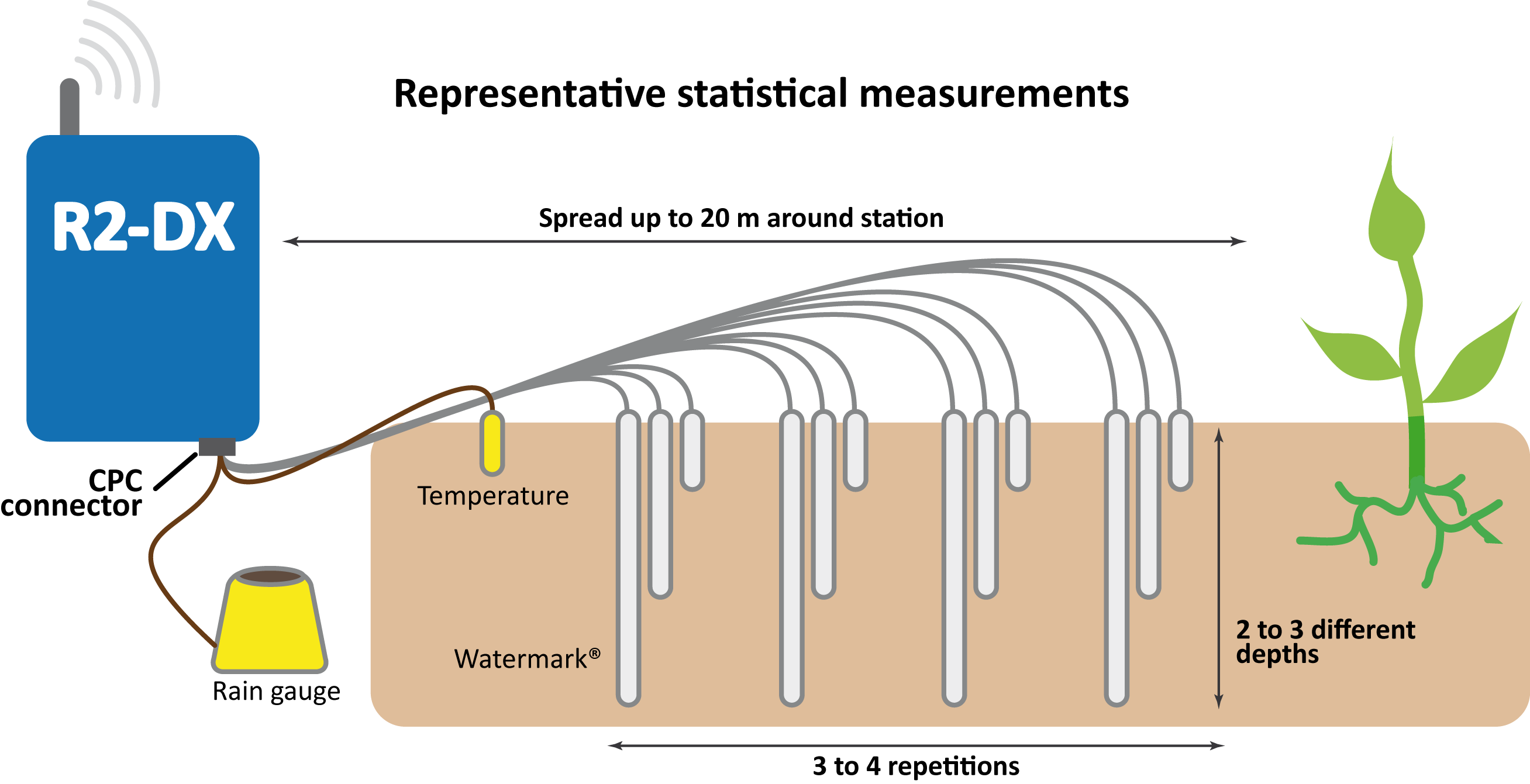 Matching the agronomic rules of "a representative spot per field equipped with adequate number of sensors", used successfully for decades. A field is defined as a unit "plant / soil / irrigation mode".
The system allows connecting up to 32 sensors, to allow research and precise investigations on many sensors installed on small areas. The system is designed to respect those agronomic measuring rules, allowing consistent advices and irrigation monitoring.
Example configurations
• 6 Watermark® sensors
(3 pairs × 2 depths) + 1 Soil Temp + 1 rain gaugeUsed on 60 cm root systems, for classical sprinkler, pivot, microjet, gun, row irrigation and drip irrigation – without valve control
• 8 Watermark® sensors
(4 different bulbs equipped × 2 depths) + 1 Soil Temp + 1 rain gauge (collecting rain + water from a single drip).Check 4 bulbs when valve control is performed
• 9 Watermark® sensors
(3 trio x 3 depths) 1 Soil Temp + 1 rain gaugeFor classical sprinkler, pivot, microjet, gun, row irrigation / 90 cm root systems
• Wireless network
Several R2-DX stations with their sensors spread over a large area.
Smart control (R2-DX Smart only)

"Smart control" interprets the sensor feedback, follows a weekly irrigation schedule, cancels useless irrigations and operates the corresponding sector latch or permanent solenoid valves.
As a result, R2-DX®-SMART measures, reports and maintains the stability of Drip irrigation bulbs in soil, while water consumption changes continuously with climate / soil / plant conditions. Irrigations are scheduled on a maximum time-framed basis for a given run time (e.g. in drip irrigation: 3 times everyday × 1.5 L per drip). Only useful irrigations happen.
Example:Result in the soil reported continuously by R2-DX®-SMART: stability of tensions in soil shows that the bulbs remain stable.